Page Reference:
a2391642-97d0-11ee-ba8b-8ca830ec8d52
Firefly Car Hire Guide to Toulouse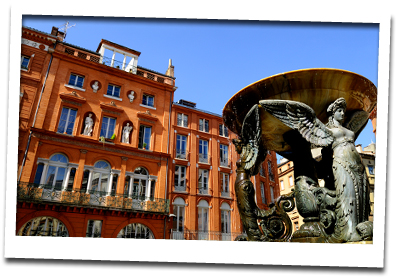 Toulouse Overview:

Located in the south west of France, Toulouse is a large metropolis that boasts a rich cultural life, with many museums, galleries and examples of historical architecture.


Places of interest in Toulouse include:

If you're interested in the Middle Ages, take a look around the Musée des Augustins; once a monastery, it dates back to the 14th century and now houses many medieval treasures. The Basilique Notre-Dame la Daurade with its Black Virgin statue is one of the city's many churches. You can also wander around the impressive Capitole Plaza and see the Théâtre National du Capitole.




You can enjoy a boat tour on one of the city's many canals, such as Canal du Midi, or relax in one of the parks. If you like Japanese gardens, pay a visit to the Jardin Compans-Caffarelli, which also has a lake. Toulouse has many fine restaurants, and its night time entertainment scene is lively and varied. You can choose from a wide selection of bars, clubs, live music and theatres, amongst other attractions.




You will need to hire a car to make the most of your holiday in Toulouse. You can use your Toulouse hire car to drive to the fascinating medieval town of Albi or the Pyrénées region, which is packed with places to visit, including the world-famous shrine of Lourdes.




If you hire a car in Toulouse, you'll also have the freedom to explore further afield and spend a few days in a different location such as Montpellier or Paris. You can also load your hire car up with ski equipment and drive to the ski resorts in the Ax Valley.





Getting to Toulouse and Toulouse Car Hire:
Toulouse's main airport is the Toulouse-Blagnac International Airport (TLS). You can hire a car here for use as soon as you step off the plane.


Car Rental Software
by

Thermeon